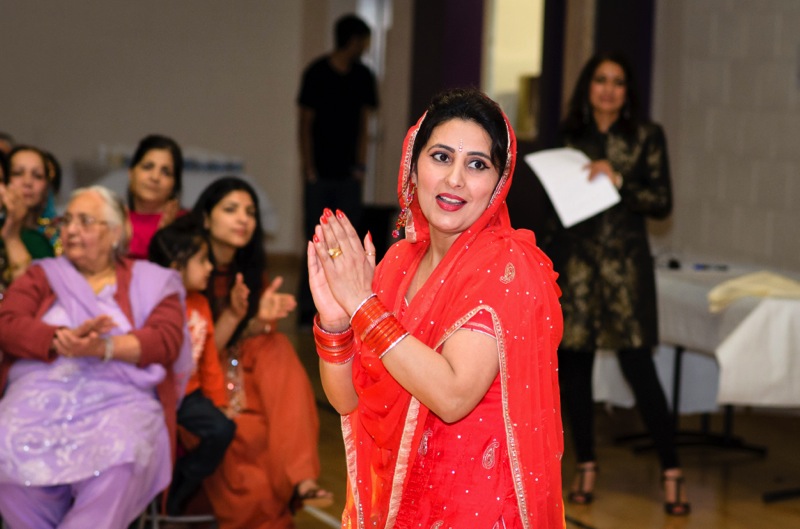 The essence of the project Teej Tyohaar – Our Festivals was to provide local people in Slough the opportunity to learn about and participate in South Asian Festivals and the historical, traditional, cultural and art aspects associated with them. This project was funded by Heritage Lottery Fund.
Project was set up to run activities which explored the roots behind traditions and cultures associated with Festivals. South Asian Festivals include a series of rituals, preparations, ceremonies and Celebrations and there is a growing need of passing this heritage to future generations, to share with other communities and to explore and enjoy the heritage. This project also focused on getting an understanding about how the traditions and celebrations of festivals have changed over time and also focus on how the heritage relates to the UK for instance how festivals have migrated to the UK, and how South Asian festivals are different when they are celebrated here
in the U.K.
Specific Aims of the Project:
Exploring the roots behind traditions and cultures related to South Asian Festivals
Encourage participation and intergenerational spirit
Explore and Enjoy the Heritage:
Promoting and developing creative skills
Developing confidence and personal skills:
Developing skills and increasing employability/Volunteering opportunities
Community cohesion
Above aims were achieved with an over whelming response from the community along with few learning which could be incorporated in the future projects.
Our project provided around 1000 participants with the opportunity to learn and explore the roots behind traditions and cultures associated with South
Asian Festivals The project conducted a Research through Open days, Visits to heritage institutions, Groups discussions and one to one interviews. Around 40 people from the older generation were interviewed with the support of Slough Museum about their memories, experiences and stories related to Festivals, their experiences of how festivals have migrated to the UK, and how South Asian festivals are different when they are celebrated here? Finding of the Research were fed into the courses and also in developing resources, course material, props and course contents. There was an Exhibition at the end which was conducted at the West wing Arts centre to disseminate the findings of the Research along with a showcase event where our learners performed and shared their newly acquired knowledge about the festivals with the wider community.
Our Events and classes were attended by not only South Asian but also people from different ethnicities and communities. We aimed to involve approx 250 people in this project but we had an overwhelming response from the community and around 1000 people participated in this project through volunteering, Research, activities and as audiences. Participants represented age range from 14yrs till 85yrs. 25 Volunteers were recruited who were learning various skills on the project.
Each Festival which we celebrated with the community was well attended by over 400 people on an average. There was a real opportunity to learn the traditional and authentic ways of celebrating different festivals and also to learn about the historical elements associated with it.
This project inspired 250 participants through different creative activities like creating Rangoli (Sand painting ), Decoration for Diwali, wall of memories etc. which helped to promote awareness, understanding and better communication between different communities. Participants were given an opportunity to explore their creativity.
One of the biggest successes of this project was to bring people together from different communities and also from different generations.
As a result of this project a DVD was created covering all the festivals celebrations which was shared with learners and local community.
https://apnavirsa.org.uk/wp-content/uploads/2017/10/apna_virsaApna-Virsa-Lohri-pic-3.jpg
529
800
tsdesigns
https://apnavirsa.org.uk/wp-content/uploads/2017/11/apna_virsa_logo.png
tsdesigns
2012-08-20 18:36:21
2017-11-20 18:37:27
Teej Tyohaar – Our Festivals