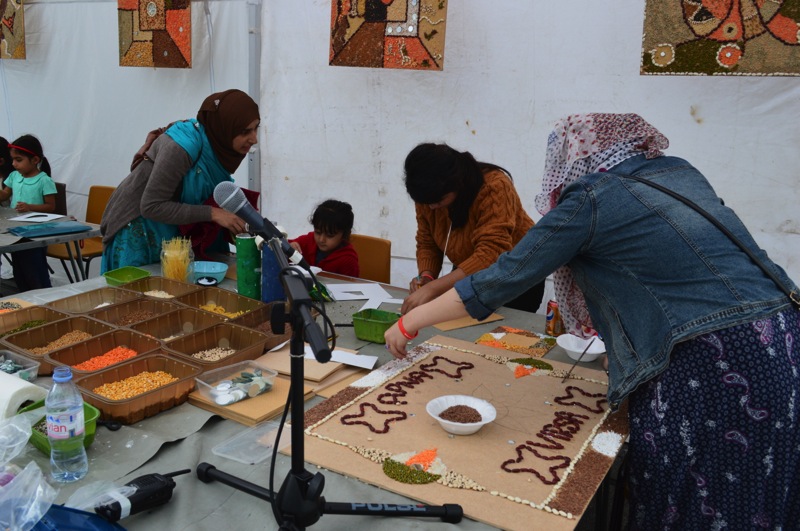 Apna Virsa's project 'Weekend of Contemporary South Asian Arts' was an arts festival of cutting edge in the Slough Town Square with high quality contemporary arts presentations and participation "tasters" providing opportunities for engagement with contemporary South Asian arts to be experienced by over 3000 audience, followed by a participatory workshop programme for approx. 150 participants to maximise local community interest and involvement. This was one of its kind and the very first South Asian Arts festival, which Slough Town centre has witnessed on this scale.
This programme was designed to:-
1) Deliver more cutting edge arts activity in Slough in tandem with the cascading of skills and professional artistic development for local artists and raising the profile of Apna Virsa along with experience of working in partnership with innovative professional, established artists.
2) Reach new people and the wider community in Slough and to increase engagement, participation in and awareness of contemporary South Asian arts (from all communities)
Following presentations/Activities took place on the 21st and 22nd of Sept:
1) Professional Rangoli artists (Artcore, Derby) created a temporary, vibrant public installation of Rangoli (sandpainting) art in the Town Square, in front of the stage area, over the course of the weekend event. Passers-by had an opportunity to create their own work through tasters and contributed to a more elaborate design.
2) Professional performances by contemporary musicians and dance companies Four by Four and Dhol Enforcement Agency (DEA).
3) Community group performances with new collaborations fusions. Steel pan music from Slough West Indian Peoples Enterprise (SWIPE) and bhangra dance from Apna Virsa and also a live collaboration of Steel Pan drums and Dhol (Indian drums)
4) The workshop marquees offered Taster activities in bhangra and dhol. Henna (Mehndhi) & Rangoli (Sandpainting) participation tasters by established Mehndhi artist Riffat Bahar & Artcore.
5) A couple of superb performance by UK's 1st prizewinning local bhangra group Vasda Punjab along with an energetic Master class.
6) Guest appearance by UK's renowned upcoming Asian singer Foji Gill and a live flashmob dance sequence led by him, participated in by the hundreds who thoroughly enjoyed the whole afternoon.
7) Guest performance by the local Karan's Bollywood Master Class with a demonstration session, along with a classical dance performance from local Kathak dance group.
https://apnavirsa.org.uk/wp-content/uploads/2017/10/apna_virsaRangoli-1-DSC_0485.jpg
531
800
tsdesigns
https://apnavirsa.org.uk/wp-content/uploads/2017/11/apna_virsa_logo.png
tsdesigns
2013-09-20 18:35:48
2017-11-20 18:36:07
Contemporary Asian Arts Programme and development